Although you can do it yourself, in my opinion, the best way to buy a house, villa or winery in Tuscany is to work with a reputable real estate agent (agencia immobiliari), especially if your Italian is not all that good. A good real estate agent will assist you with the necessary due diligence, which in Italy is usually related to claims that might be made on the ownership of the house by relatives or legatees of the person selling the property. Your Tuscan real estate agency should also be able to point you to a good notary (notaio) who will check the contracts, and to a good geometra who will check the structure of the house, give advice on any needed restoration work and check the water supply if it comes from a well or bore hole. (Make sure the necessary water rights come with the house!) A good agency will also assist in making arrangements for a caretaker and/or gardener if you won't be living in the house throughout the year.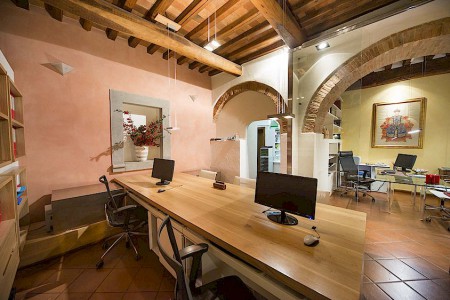 My recommended real estate agency for central Tuscany is Italhaus Immobiliari which is located in Greve in Chianti. This real estate agency, under the expert direction of Antonella Bonatti, has been successfully selling properties in Tuscany for the past 25 years. Italhaus offers a large portfolio of residential and commercial properties, historical villas, boutique hotels, restored farmhouses, brand wineries, farms, business premises, prestigious apartments in town and countryside and at the seaside, as well as hamlets, homes and cottages to renovate.
More about Italhaus real estate agency in Tuscany, Italy.

Although Elena was born in Venice, she was brought up in Tuscany and is a historian and frequent contributor to online articles about life in Tuscany and Umbria. Her specialities are Tuscan and Umbrian local history and folklore.